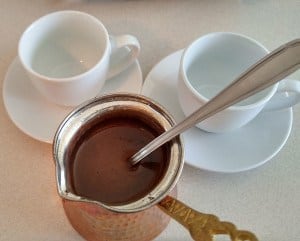 A cezve is a pot designed specifically to make Turkish coffee. The body and handle are traditionally made of brass or copper (occasionally silver or gold); though, recently, cezve are more commonly made from stainless steel, aluminium, or ceramics. The long handle is particularly useful to avoid burning one's hands, and the brim is designed to serve the coffee. Other regional variations of the word cezve are jezve and čezve. In Ukrainian and Russian, the word is spelled джезва .
Turkish coffee preparation with a cezve is likely one of the oldest methods of coffee preparation that it still being used today. Originally cezve brewed coffee started in the Ottoman empire, before spreading out to many regions of the world such as various Arab countries, Russia, and Greece, where the cezve is likely still the most popular method of coffee brewing today.
Turkish coffee made with a cezve is extremely popular because it has a unique taste, it is inexpensive and it is easy to clean. It is also very robust and extremely portable.
Cezve coffee is traditionally brewed over a non electric heat source such as hot coals, hot sand or gas fire.
Cezve coffee brewing is simple in theory but can be difficult to extract properly and successfully.
For cezve coffee preparation, ground coffee is mixed directly with water over a heat source. Depending on the culture of cezve coffee brewing, spices are also often added such as cardamon, cloves or cinnamon as well as sugar.