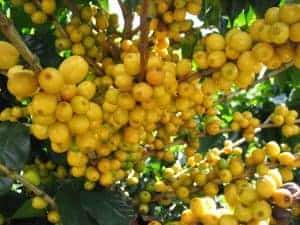 Coffea is a genus of flowering plants whose seeds, called coffee beans, are used to make coffee. It is a member of the Rubiaceae family. They are shrubs or small trees native to tropical and southern Africa and tropical Asia. Coffee ranks as one of the world's most valuable and widely traded commodity crops and is an important export product of several countries. The plant is cultivated in over 70 countries, primarily in equatorial Latin America, Southeast Asia, India, and Africa.
There are many species in the Coffea genus, the most popular ones though are:
Coffea magnistipula
Coffea arabica
Coffea canephora
Coffea liberica
The most used species in the food industry are Coffea arabica, accounting for most of the International production, and Coffea canephora, (Coffea robusta), which is used in blends such as espresso.
This is a comprehensive list of species of the Coffee Tree (genus Coffea):
Coffea abbayesii
Coffea affinis
Coffea alleizettii
Coffea ambanjensis
Coffea ambongenis
Coffea andrambovatensis
Coffea ankaranensis
Coffea anthonyi
Coffea arabica L.
Coffea arenesiana
Coffea augagneurii
Coffea bakossii
Coffea benghalensis
Coffea bertrandii
Coffea betamponensis
Coffea bissetiae
Coffea boinensis
Coffea boiviniana
Coffea bonnieri
Coffea brassii
Coffea brevipes
Coffea bridsoniae
Coffea buxifolia
Coffea canephora
Coffea carrissoi
Coffea charrieriana
Coffea cochinchinensis
Coffea commersoniana
Coffea congensis
Coffea costatifructa
Coffea coursiana
Coffea dactylifera
Coffea decaryana
Coffea dubardii
Coffea ebracteolata
Coffea eugenioides
Coffea fadenii
Coffea farafanganensis
Coffea floresiana
Coffea fotsoana
Coffea fragilis
Coffea fragrans
Coffea gallienii
Coffea grevei
Coffea heimii
Coffea homollei
Coffea horsfieldiana
Coffea humbertii
Coffea humblotiana
Coffea humilis
Coffea jumellei
Coffea kapakata
Coffea kianjavatensis
Coffea kihansiensis
Coffea kimbozensis
Coffea kivuensis
Coffea labatii
Coffea lancifolia
Coffea iana
Coffea leonimontana
Coffea leroyi
Coffea liaudii
Coffea ligustroides
Coffea littoralis
Coffea lulandoensis
Coffea mabesae
Coffea macrocarpa
Coffea madurensis
Coffea magnistipula
Coffea malabarica
Coffea mangoroensis
Coffea mannii
Coffea manombensis
Coffea mapiana
Coffea mauritiana
Coffea mayombensis
Coffea mcphersonii
Coffea melanocarpa
Coffea merguensis
Coffea millotii
Coffea minutiflora
Coffea mogenetii
Coffea mongensis
Coffea montekupensis
Coffea montis-sacri
Coffea moratii
Coffea mufindiensis
Coffea myrtifolia
Coffea namorokensis
Coffea neobridsoniae
Coffea neoleroyi
Coffea perrieri
Coffea pervilleana
Coffea pocsii
Coffea pseudozanguebariae
Coffea pterocarpa
Coffea racemosa
Coffea rakotonasoloi
Coffea ratsimamangae
Coffea resinosa
Coffea rhamnifolia
Coffea richardii
Coffea sahafaryensis
Coffea sakarahae
Coffea salvatrix
Coffea sambavensis
Coffea sapinii
Coffea schliebenii
Coffea semsei
Coffea sessiliflora
Coffea stenophylla
Coffea tetragona
Coffea togoensis
Coffea toshii
Coffea travancorensis
Coffea tricalysioides
Coffea tsirananae
Coffea vatovavyensis
Coffea vavateninensis
Coffea vianneyi
Coffea vohemarensis
Coffea wightiana
Coffea zanguebariae