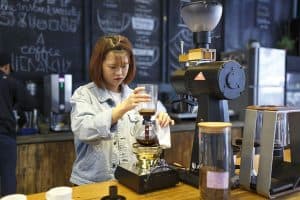 Coffeehouse, coffee shop, and café are related terms for an establishment which primarily serves prepared coffee or other hot beverages. It shares some of the same characteristics of a bar or restaurant, but it is different from a cafeteria. As the name suggests, coffeehouses focus on providing coffee and tea as well as light snacks.
A coffee shop offers various coffee drinks, prepared using various brewing methods. Most common drinks are brewed coffee, espresso, latte and cappuccino. More recently, newer brewing methods have emerged into coffee shops including hand drip, cold drip, and syphon.
Coffee shops can vary  dramatically in nature, from big coffee chains such as Starbucks to smaller independant and specialty coffee shops.
Coffeehouses were first documented as far back as the 15th century in the Islamic world. Coffeehouse culture then spread to other countries such as Vienna and Budapest.
Intellectuals, artists and free thinkers would famously gather in coffeehouses to exchange ideas. Coffeehouses were also extremely popular for playing games such as backgammon or chess.
In modern day English, the words coffeehouse and coffee shop generally suggest a good standard of coffee preparation. A café, on the other hand, generally refers to an establishment that focuses on casual dining where coffee is served as a service, but not necessarily as a speciality.
In some parts of central Europe, alcohol is often served in cafés.