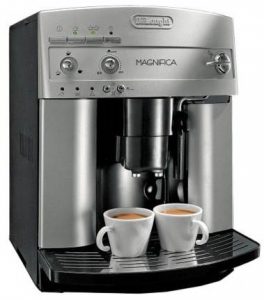 De'Longhi Group, or De'Longhi S.p. A, is a major Italian small appliance manufacturer based in Treviso, Italy. They manufacture coffee making equipment, including drip coffee makers and espresso machines.
De'longhi started as a family run business in 1902, mainly operating as as a small industrial parts manufacturer. It remained a family run business for nearly 50 years before becoming a corporation in 1950. Today, Delonghi is a public company whose shares are traded on the Milan Stock Exchange.
De'longhi can be considered to be one of the most popular companies for domestic coffee appliances in the world.
Within the coffee industry, De'longhi specialize in, and are known for small, affordable, steam based espresso appliances. However, they produce all types of coffee appliances and equipment ranging from small, manual coffee makers all the way up to super automatic, bean to cup espresso machines, which grind and brew coffee beans and steam milk all at the push of a button.
De'longhi is known particularly for the design of its products and has won several design awards, notably the Red Dot design award in 2007 for its Esclusivo line of kitchen appliances.
De'longhi products are sold in more than 120 markets internationally. The company has more than 8,000 employees. In 2018, De'longhi generated over €2.08 billion in revenue.