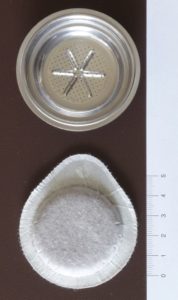 An Easy Serving Espresso Pod, or E.S.E. pod, is a small coffee disc (Coffee pod), packed in a paper filter covering. Each pod contains 7 grams of compressed ground coffee, ready to be extracted into a shot. A double serving pod, (doppio), contains 14 grams of ground coffee. Pods are typically 44-45mm size for E.S.E. certified machines. There are many Espresso machines that can use the 45 mm diameter E.S.E Espresso standard Pod.
The major advantage with E.S.E. pods is that they don't need tamping, measuring, or grinding. They are designed to offer consistent espresso out of the box with any of the supported E.S.E. compatible espresso machines.
Coffee pod machines as well as capsule machines have revolutionized home coffee brewing culture. E.S.E pods allow the user to brew consistant, espresso style coffee without any barista technique and in an inexpensive way, from the comfort of their own home.
Companies whose machines are compatible with E.S.E. pods include illy, Philips and Delonghi.
E.S.E. pods are not to be confused with coffee capsules, although they are similar. Capsule machines, such as Nespresso and Keurig, brew coffee from capsules, which consist of coffee that has been vacuum packed into a metallic capsule.
E.S.E. pods are preferable to capsules by many because they are more environmentally friendly and are generally biodegradable. However, coffee capsule companies state that capsule coffee is more hygienic due to lack of contact with harmful external agents such as air, heat and humidity,  due to the vacuum packing process.