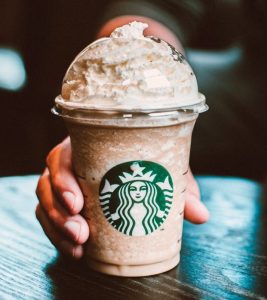 Frappuccino is a trademarked line of blended coffee beverages sold by Starbucks. It consists of coffee, blended with ice and other various ingredients, usually topped with whipped cream. Frappuccinos are also sold as bottled coffee beverages in stores and from vending machines.
The word Frappuccino comes from the French lait Frappé beverage, which is a drink made with frothed milk and coffee. The word Frappe, without the accent, was coined in Boston, Massachusetts where the word simply refers to a milkshake with frothed milk. Coffee was not a necessary ingredient.
The Frappucino was created by Andrew Frank of The Coffee Connection, a company which was bought by Starbucks in 1994.
The Frappucino has revolutionized the iced coffee and sweet coffee industry. What before was just cooled coffee is now a complete dessert. The Frappucino has been a central factor in the success of Starbucks and is arguably more strongly associated with the franchise than their regular hot coffee beverages.