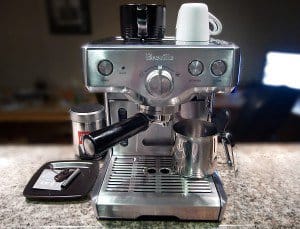 An espresso machine is used to produce the traditional Italian coffee beverage called espresso. The espresso maker brews coffee by forcing hot water through a puck of compacted ground coffee. The result is a concentrated coffee, with a thick consistency, called espresso.
The principle of espresso brewing is to create enough pressure in the coffee puck, so that soluble solids and fats are extracted during preparation. The espresso machines may be steam-driven, piston-driven or pump-driven. Although the principle is the same, steam-driven espresso machines do not develop enough pressure as the piston or pump driven machines.
A special steam driven espresso maker is the Moka pot, which is also known as the stove top espresso maker.
Classification of Espresso Machines
In a different classification, espresso makers can be manual espresso machines, or lever operated, semi automatic espresso machines, automatic, or super automatic, depending on the automation level.