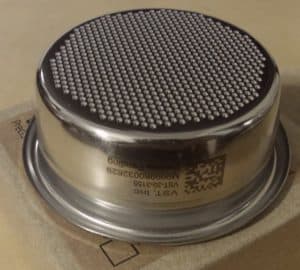 A "filter basket" is a metallic, basket shaped filter, that holds the coffee grounds when preparing espresso. The basket has tiny holes that allow coffee to pass through and retain the grounds. The filter basket is inserted into the portafilter, and the portafilter locks into the brew group of the espresso machine.
The function of a filter basket is to create enough pressure during extraction, and allow filtration. There are two types of baskets pressurised and non-pressurized baskets.
Pressurized baskets provide extra pressure during extraction in order to increase the shot's consistency. Non pressurized baskets allow more control over the shot, and deliver true crema when brewing is done correctly. Non-pressurized baskets can increase the level of crema, but this is false crema.
Furthermore, baskets can hold various amounts of grounds. Depending on this we can have single, double and triple baskets. These are used to pull single, double, or triple normale shots. There are also the pod baskets, used for ESE pods.