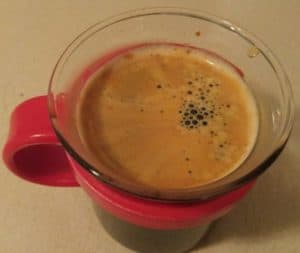 Common chicory, Cichorium intybus, is a somewhat woody, perennial herbaceous plant usually with bright blue flowers, rarely white or pink. Various varieties are cultivated for salad leaves, chicons, or for roots (var. sativum), which are baked, ground, and used for preparing a beverage. It is also grown as a forage crop for livestock. It lives as a wild plant on roadsides in its native Europe, and in North America and Australia, where it has become naturalized.
The roasted and ground root is used to make a beverage that resembles coffee. It is very often used as a coffee substitute and additive. As an additive is used in various ratios most commonly used ratio is around 20% chicory to 80% Arabica coffee.
Chicory is most commonly drunk with coffee or as a coffee substitute  in the state of Louisiana in the United States.
Roasted Chicory became very popular as a beverage in World War II, when there was a coffee shortage and subsequent rationing.
Chicory has various health properties. It is a prebiotic fibre and so contributes to gut health. It also has calming properties and is therefore an excellent pairing with coffee as it mitigates some  of the effects of caffeine.
Roasted chicory can be prepared using a filter coffee machine or even with an espresso machine. Espresso style chicory can therefore be consumed with hot milk as a cappuccino or latte.