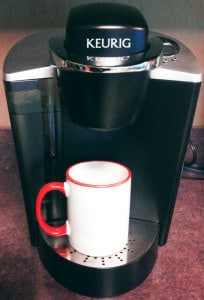 A single serve coffee maker is a coffeemaker that can be used to brew a single cup of coffee. The concept of single serve is usually related to automatic drip coffee brewers, since the classic automatic drip coffee machine cannot make small quantities of coffee. Although espresso machines brew a single serve, they are not included in the category. The same with manual coffee brewers.
The advantage of brewing a single cup is the that by brewing on demand we always have freshly brewed coffee. Classic automatic drip coffee makers can only brew larger quantities of coffee. Single cup coffee machines can use loose ground coffee, or coffee capsules. The capsule based systems are more convenient, and they offer consistency.
Some single serve coffeemakers brands are: Bunn, Hamilton Beach, Keurig, Senseo, KitchenAid, Mr. Coffee.
Single serve coffee makers are very often capsule or pod machines. These machines are no grind, espresso style machines where the user simply inserts a capsule or pod and presses a button. Coffee capsule machines are very popular among busy people and in offices.
Single serve coffee makers can either be electric or gravity coffee makers. Electric single serve coffee makers are popular among those who prioritise convenience as they are quicker whereas gravity single serve coffee makers are useful for those who regularly brew coffee away from electric outlets, such as those who camp. Gravity single serve coffee makers are generally filter coffee brewers.
An excellent example of a single serve coffee maker that requires no electricity and is highly portable is the Aeropress by Aerobie.